Aviaeology have a rare knack of combining exactly what scale modelers want; high quality, accurate and above all - trustworthy - reference material for scale model building together with the accessories to enable an accurate model to be built by the 'average' modeler with their excellent decal ranges.

No disrespect intended, but we are all in some way average modelers, good but not necessarily 'winning class'. With Aviaeology products to hand, now we can all turn out superbly accurate models in well researched colour schemes and this latest book from them takes that thought to a whole new level.

'Canadian Aircraft of WWII' is the first of a series under their new 'AviaDossier' label which they intend to add to over time as accurate references become available, covering various types of aircraft used by Canadian forces throughout history.

The idea of a picture book volume featuring totally different aircraft types, loosely 'thrown together' by some convenient heading, is something we have all seen before; but this new volume is so far from that thought. It creates a whole new genre in reference material - put simply, it is brilliant!

Highly detailed, packed with information, highly readable, packed superb black and white crystal clear images, large and gorgeous colour profiles, choosing fascinating subjects this volume has it all. Carl Vincent the author, and Terry Higgins the Boss of Aviaeology have combined to bring us one of the best monographs I have seen in a long while, and best of all - there are flying boats featured in it!

It is very well written and thus easy to read, each chapter featuring a different type of aircraft that has served with the R.C.A.F. and indeed some of the chapters concentrate on one particular airframe or pilot in detail, each with a story to tell that will really interest you. This is where they differ to everyone else that has tried before.

And then there are the colour profiles by Terry Higgins - they are gorgeous! Large, well detailed and just so well done, these are the 'stars of the show', most of them featuring both port and starboard sides of the featured subject; each one is a state-of-the-art profile which I would personally love to see printed to the same size as the familiar older 'Squadron Profiles' and hung on the 'den' wall. If I had just one gripe, it would be that the profiles could be enhanced with a smaller top view to complete the coverage but I am just nitpicking.

Here are some low-res scans of some of the flying boat pages: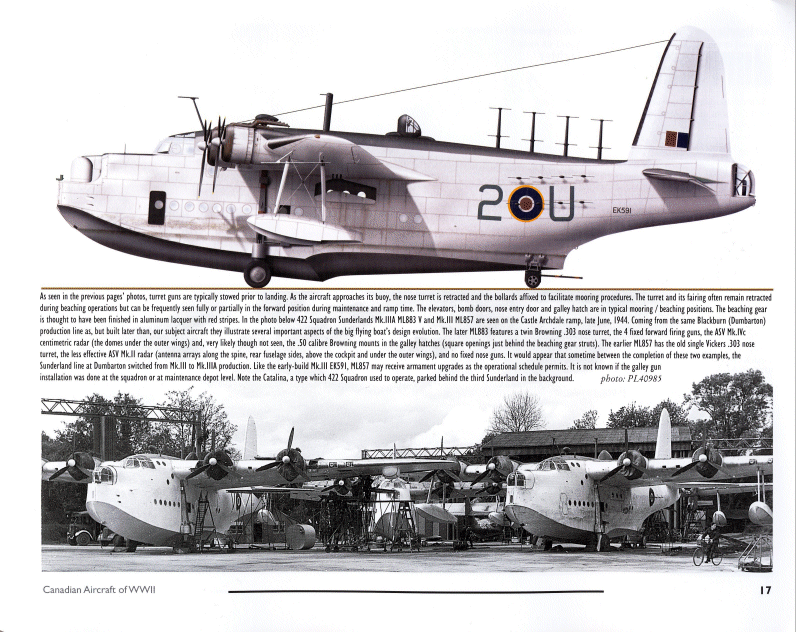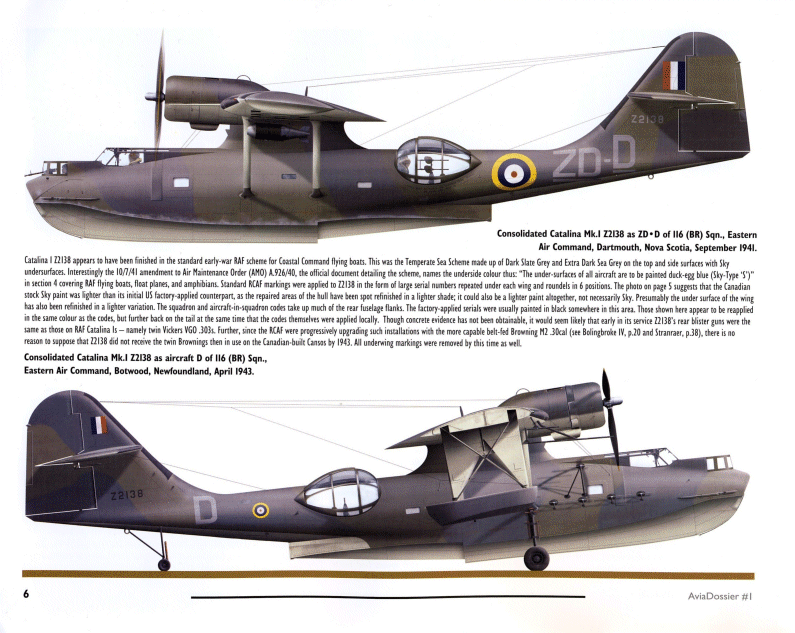 The different aircraft types featured in this book are:
| | | | |
| --- | --- | --- | --- |
| DeHavilland Fox Moth | Consolidated Catalina I | N.A. Mustang I | Fleet Fort |
| g | | | |
| Short Sunderland III | Hawker Hurricane XII | Bristol Bolingbroke IV | Northrop Delta |
| g | | | |
| Douglas Boston III & IIIA | Consolidated Liberator GR.V | Bristol Bolingbroke IVW | Blackburn Shark II (T. Tug) |
| g | | | |
| Supermarine Stranraer | Spitfire FR.IX & FR.XIV | Beaufighter TF.X | Lysander IIIA TT |
| g | | | |
| Curtiss Kittyhawk Mk.IV | Lockheed Hudson I | Stocky Edwards' Spitfire | Stocky Edwards' Fw190 |
...............................................................................................................................................................
So, is it worth it? If you want a really interesting read, then 'Yes'.
Is it really that good? 'Yes, it really is' and if one was to follow the volume in it's entirety and build a model of each of the featured aircraft, you would end up with a lovely and original collection.
Incidentally, don't forget that Aviaeology also produce excellent decal sets in all the popular scales and the Sunderland featured in this book is available on the 'Canadians in Coastal Command' #2 sheet. Visit their website by clicking here.
I know this is a flying boat website and they are featured within the pages of this book but if this volume had no 'boat coverage I would still have read it, as I love aircraft in general; but, I also love volumes that are written and produced to this very high standard even more.
Personally, I can't wait for volume #2, especially if it contains more flying boats!
Recommended to historians, enthusiasts and scale modelers alike.
Bryan Ribbans
Webmaster/Scale Modeler