Guest article by Louis Carabott
This magnificent 1/72 scale diorama features the Airfix Short Sunderland Mk.III
(Click on the pictures to see the full size image)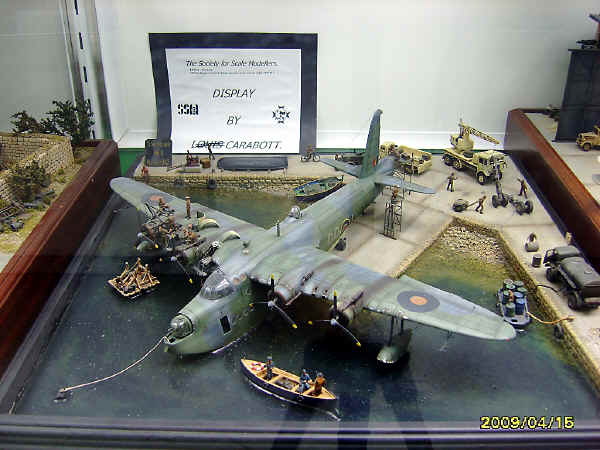 OVERVIEW
This diorama was actually modeled from a crude photograph taken at the time of this incident….with a story to it…. This particular aircraft arrived from Alexandria for a technical and fuel stop.
However, it had engine failure on take off from the Kalafrana sea base, Malta and it subsequently needed an engine change. The engine change was made in the open on the slipway - which still stands to this very day - to get the aircraft out of Malta as soon as possible, as air raids were becoming deadlier and more frequent. Malta was really taking a pounding around this time and we had it very bad. The attacks were originating from the island of Sicily, which had been invaded and made part of Axis territory, only 60 miles away.
THE DIORAMA
This is the very old Airfix Sunderland Mk.III kit which was extensively detailed using bits and bobs from the scrap box. I scribed all the panel lines and vac-formed the canopy and all the turrets using clear acetate sheeting. This model was finished in 1998 and not a lot of resin accessories and photo etch parts were available at that time, so I had to make do with bits and bobs from the scrap box.
| | | |
| --- | --- | --- |
| | N | |
The detailed engines were scratch built. I was lucky enough to be in London for a holiday at that time and the staff at the RAF Museum , Hendon were extremely helpful and I snapped, oh I don't know how many close up pictures of this magnificent aircraft. So I had tons of information when I started.
It was airbrushed in Humbrol enamels and shadowed and highlighted with lighter colours of the basic hues. It was weathered in oils.
FIGURES AND VEHICLES
All Figures were modified from stock Matchbox and Airfix 1/72 scale polyurethane figures which were altered to the required poses. The vehicles were again available kits modified and altered to represent the propped up vehicles available in Malta at that time. There was a very limited amount of serviceable equipment in the island at that time.
They were painted in any sandy or stony coloured hue available… one can notice the crane mounted on a Matador truck and fuel was just tapped off from a normal bowser to 45 gallon oil drums and later fuelled manually by hand using 10 gallon tanks! Equipment was very limited in wartime Malta
GROUNDWORK
The groundwork was fashioned out of balsa wood covered with a clay compound and later scribed when dry. Small pebbles and cat litter was used to make the seashore.
There is also a Maltese touch in the diorama in the form of a colourful Maltese fishing boat on the left hand side.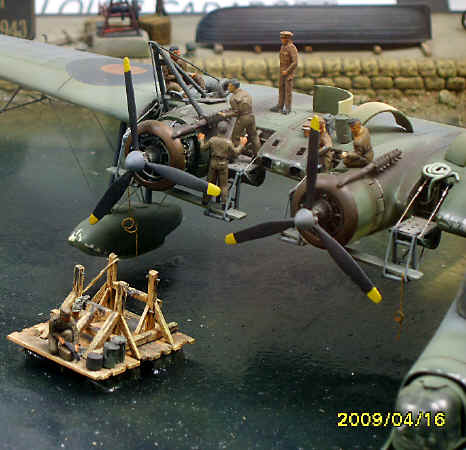 The seascape was sculpted using clear resin, being very careful to make the right mix so as not to corrode the model.
This diorama was displayed at the UK IPMS Nationals in 1998.
PHOTO GALLERY








SEAWINGS say's " When I first saw this diorama I instinctively knew how much work Louis had put into it having done one myself, albeit without the added extra dimension of dock and vehicles. It is stunning.
He has managed to capture the essence of the work going on around the Sunderland during the featured engine change with attractive compositions of figures and equipment without overpowering the scene.
Added to that his workmanship, accomplished painting and attention to detail is quite breathtaking. This might have been built back in 1998, but I would be hard pressed to say I've seen a better diorama in 1/72 scale since then!
All-in-all Louis has done a really fine job with one of the oldest kits on the market today. Congratulations and well done, Louis!!