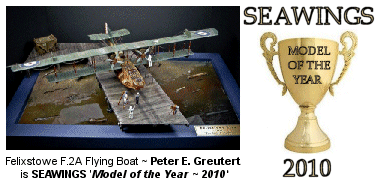 This is one of the finest model dioramas I have ever seen, and a worthy winner of the SEAWINGS 'Model of the Year' Award 2010.
Built by Peter Greutert, and taking over two years to complete, the Felixstowe F.2A flying boat is absolutely, totally detailed - inside and out. Indeed, the lengths to which Peter went to provide all that detail makes a fascinating story and one that SEAWINGS will feature shortly, as Peter has very kindly granted permission to host the article here for which we are delighted!
In the meantime, just cast your eyes over these beautiful images.